Volvo is a brand known for performance and efficiency. And by design, Volvo is forever innovating and improving upon what has come before. Powertrains are no different.
At Corley's Albuquerque Volvo, we wish to apprise the Albuquerque community of the advances made to Volvo engines as seen in Volvo XC-Series luxury SUVs. These popular models and their trims will soon feature new B5 and B6 classified engines, as opposed to the T5 and T6 powertrains now harbored in Volvo XC90, Volvo XC60 and Volvo XC40.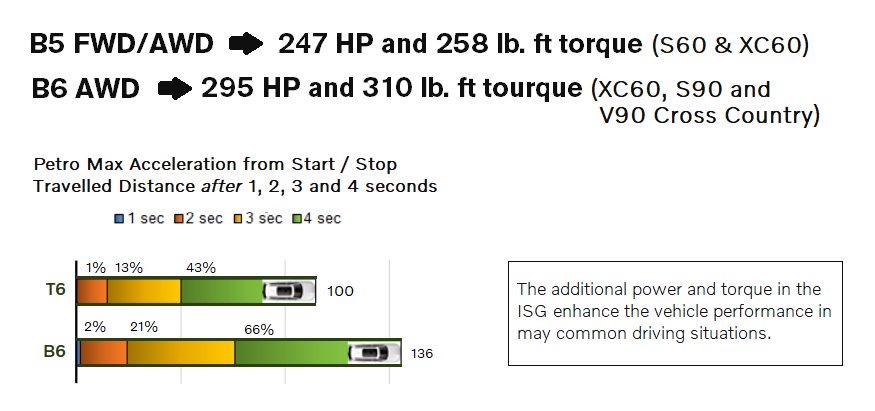 Understanding the New Volvo Powertrains
As you shop for your new Volvo model in 2022, you'll likely notice some different designations as you decide which powertrain is right for you. With a variety of new Volvo mild-hybrid engines to choose from, you might be a bit confused as to what you're bringing home. Corley's Albuquerque Volvo is here to help you understand the difference between the outgoing T5 and T6 engines versus the new B5 and B6 mild-hybrid engines that you'll find throughout the new Volvo lineup near Santa Fe and Placitas.
T5 and T6 vs B5 and B6
The outgoing crop of Volvo engines were both potent and exciting, delivering big petrol power without guzzling too much fuel. The T5 was a turbocharged 2.0-liter four-cylinder unit that delivers 250 horsepower and 258 pound-feet of torque. It came with an eight-speed automatic transmission and sent power through either the front wheels or all-wheel drive system dependent on the model. Meanwhile, the Volvo T6 powertrain featured both turbocharging and supercharging, offering up 316 horsepower and 295 pound-feet of torque and coming exclusively paired with Volvo's intelligent all-wheel drive system. With the T5, you could achieve up to 36 mpg highway depending on the model, while the T6 could get you up to 32 mpg highway in the Volvo S60 sedan.
For 2022, microhybrid technology has been added to both the T5 and T6 engine setups, and these powertrains are now designated as the B5 and B6, respectively. While the power output and estimated fuel economies of the new B5 and B6 engines are no different than their outgoing counterparts, the mild-hybrid technology does deliver additional efficiency in certain driving situations.
What is Mild-Hybrid Technology?
As opposed to a traditional hybrid system where you have an electric motor and gasoline engine running concurrently, a mild-hybrid system uses it's electric power only at select moments to help save fuel when it matters most. This electric assist feature powers the wheels from a stop or while cruising at low speeds. Think about the times you're stuck in traffic around Santa Fe or going from light to light in Rio Rancho. The mild-hybrid system is designed to help get things moving in these scenarios. This takes stress away from the combustion engine by moving the wheels with electric power at initial startup. Typically, this is where you would burn the most fuel, so you'll find some big fuel savings if you frequently find yourself in stop and go traffic.
How Does a Mild-Hybrid Recover Energy?
The small motor and battery pack in the B5 and B6 mild-hybrid systems aren't enough to get you around town on your, and they'll quickly deplete if you're constantly stopping and starting. That said, regenerative braking helps them recover energy as you drive, so simply slowing down will recharge the battery and give the system more life.
Volvo Models with B5 and B6 Powertrain Options
You'll find a wide range of new Volvo models feature the B5 and B6 powertrains, all helping to push Volvo's goal of a completely hybrid lineup by 2025. Currently, the Volvo S60 and Volvo S90 luxury sedans both feature these mild-hybrid powertrains. You can also take home a Volvo XC60 crossover if you're looking for this hybrid tech in a new five-passenger SUV. And yes, even the three-row Volvo XC90 comes with the B5 and B6 engine options, along with the B8 plug-in hybrid powertrain that has featured in prior generations.
Visit Our Dealership Today!
For more details and a hands-on experience with these new powertrains, visit our Volvo dealership in Albuquerque for a test drive today!
How can we help?
* Indicates a required field