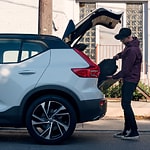 The Volvo XC40 is a luxury subcompact SUV that has increasingly grown in popularity. That's because it has an excellent powertrain, exquisite interior and lots of room. It's also because of attractive styling and exterior features like those detailed below.
Rain Sensor

The rain sensor in the Volvo XC40 automatically turns on the windscreen wipers when it detects water. This is a valued feature because it promotes safety by optimizing visibility. In some cases, it only requires one sweep across the windscreen.

Heated Windshield Wiper Blades

? One of many valued features in the Volvo XC40 is the heated windshield wiper blades. The heat emitted from the wiper blades is beneficial because it helps to keep washer fluid from freezing. It's another way to ensure drivers maintain clear visibility while on the road.
Are you ready to take the Volvo XC40 for a test drive. Visit Corley's Albuquerque Volvo today! You can also learn about other features in the XC40.