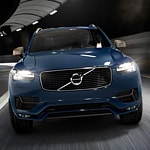 At curbside, Volvo XC90 epitomizes everything you want in a luxury SUV. It's gorgeous, symmetrical, big and stylish. A closer look at its performance features add more to the list of reasons why our Corley's Albuquerque Volvo team can't get enough of this ride.
Volvo Paddle Shifters comprise the gear-shifting component of XC90's Geartronic Transmission, a manual and automatic hybrid. The paddles are closer to the steering wheel, letting you operate them without having to look down or take your hands off of the wheel. The paddles shift gears seamlessly, offering the precise, lag-free handling and tactile payoff of a classic clutch. Stop-and-go traffic in Albuquerque, NM is the fastest way to guzzle gas and raise your emissions levels. Volvo XC90 Start/Stop technology shuts down the engine when you come to a stop, say, at a traffic light, starting up again promptly when you resume driving.
Feel the power of Volvo XC90's performance for yourself with a test drive at Corley's Albuquerque Volvo today.